bafta
tv producer walter barnett award pages

Searchable Awards Database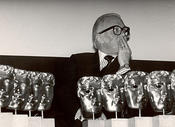 BAFTA ArchiveWelcome to the Official Awards Database of the British Academy of Film and Television Arts.
Search the database below to find BAFTA winners and nominees from 1947 to the present day. Choose to search by word, or select a Year, Category and Award.
OR, Browse Year-by-Year - Children's | Film | Television | Television Craft | Video Games
Please note: Year indicated refers to the year in which the film, programme or game was eligible for award.